Best New Restaurants in East Bay 2021 | Food + Drink
FLOWER DINNER DESTINATION JUST CLOSE TO ALAMEDA'S MAIN TRAINING.
Alley and Vine has made the bold decision to open in December 2020, mid-shutdown, bringing fine farm-to-table cuisine to the Park Street area of ​​Alameda. With its attractive vine-covered outdoor dining area located in a small alleyway that runs alongside the restaurant, Alley and Vine has dramatically increased the dining options in the area, courtesy of Executive Chef Jason Ryczek. Sporting a resume bolstered by stints with San Francisco icons Waterbar and Farallon, Ryczek has created a sophisticated and ever-changing menu that promises dishes made from the best, seasonal ingredients. This summer, the stars included the Serrano Ham Melon Gazpacho, a frothy starter that exploded with flavor, and the tender pan-roasted Spanish octopus appetizer. Seafood is a special specialty, and Ryczek actually cures his own California White Sturgeon Caviar, sold by the ounce with accessories for $ 95 if you're in the mood to splurge.
Main courses like the dry-aged roast rib eye and poached albacore tuna with clams were perfectly cooked and beautifully served, extremely satisfying dishes that will make you want a trip home to check out the rest of the menu. Be sure to check out the creative handcrafted cocktails, and knowledgeable staff can advise diners on the stellar wine list, which includes wonderfully unexpected options by the glass. alleyandvine.com. —Deborah Kirk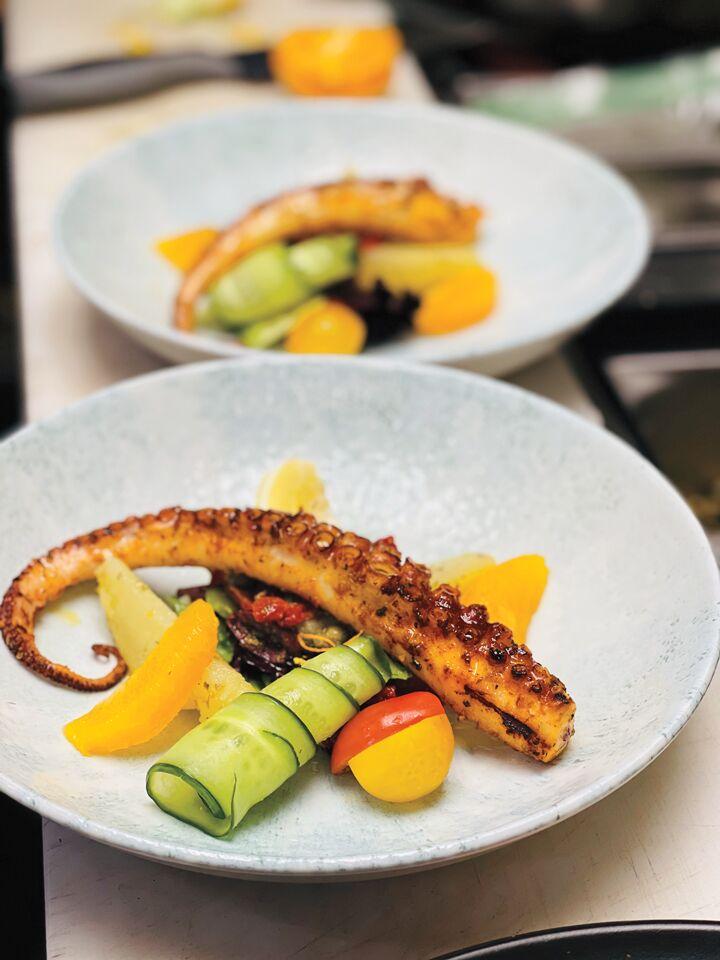 AN ELEGANT GREEK FINE BREEZE TABLE IN DOWNTOWN PLEASANTON.
With its airy ambience, upscale service and tasty Greek specialties, Elia, owned by restaurateur Fatih Ulas and executive chef Mehmet Duygu, is a breath of fresh air along the charming main street of Pleasanton. An expansive patio, turquoise umbrellas, and hanging flower baskets invite guests to dine al fresco, while the interior is equally welcoming with whitewashed Mediterranean decor accented by wood and pops of blue.
Taste the complimentary rolls to start, then choose from the mezethe entries. Delicious dips include tzatziki (Greek yogurt, cucumber, dill and garlic mint), taramosalata (caviar mousse) and melitzanosalata (roasted eggplant, peppers and garlic) – or just get the pikilia, which includes generous portions of the three with grilled pita. The saganaki—kefalogaviera cheese drizzled with rum, set on fire and extinguished with freshly squeezed lemon at the table is an irresistible pleasure. For starters, the escalope potatoes are a perfect comforting addition to the tender filet mignon souvlaki. Or, choose fresh bucatini pasta, mixed in a white wine sauce with a generous helping of Maine lobster.
To accompany the meal, choose from an extensive wine list or try the refreshing white sangria. Don't forget to save room for dessert – the poached pear in red wine covered with pistachio crumbs on vanilla ice cream is heavenly. eliapleasanton.com. —Gabby Vanacore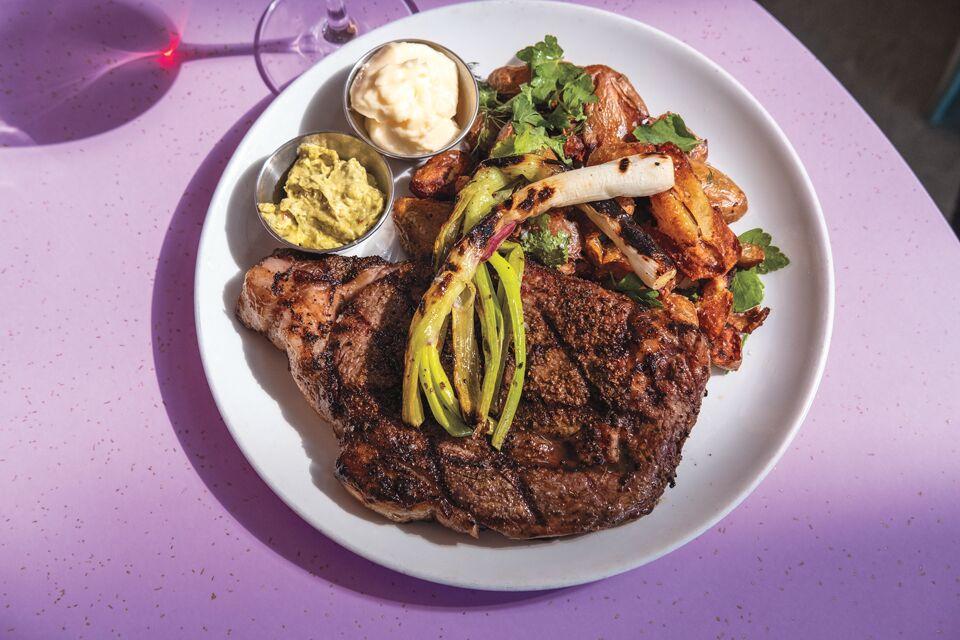 TIKI'S FLAIR MEETS UPTOWN CHIC IN THIS CLASSIC OAKLAND SNAPSHOT.
Co-owners Christ Aivaliotis and Matt Reagan, of neighboring tiki bar Kon-Tiki, have transformed the former Flora space – in the Oakland Floral Depot decor building – into a tropical island.
Cocktails at this super-lively supper club-style restaurant let you know early on that you're out of the mainland. Take the Floral Depot punch. Served in the right lowball glass with a giant ice cube, it's pink and beautiful, a bit spicy, fruity and refreshing, but it's definitely a big girl's cocktail and it packs a punch. Equally stunning was a scallop crudo appetizer, the sweet chunks of soft, rich seashells contrasting with tiny crispy matches of radish and crunchy tobiko and unhooked tonnato-style aioli.
Palmetto chef Manny Bonilla, formerly of Hawker Fare, presents starters that can be summed up in two words: explosion of flavors. A perfectly seared halibut came not only with mashed potatoes in olive oil, but also shishito peppers, eggplant, torpedo onions, lobster butter and tarragon. The quail was also expertly prepared and was surrounded by an extremely diverse cast of supporting actors: sweet chili sauce and grilled peppers, panzanella with fresh basil, fennel and pickled cucumbers. Wine and beer geeks will have a blast with the list. Mint chip ice cream hit just the right note after so many full flavors. palmetto-oakland.com. —Michaela Jarvis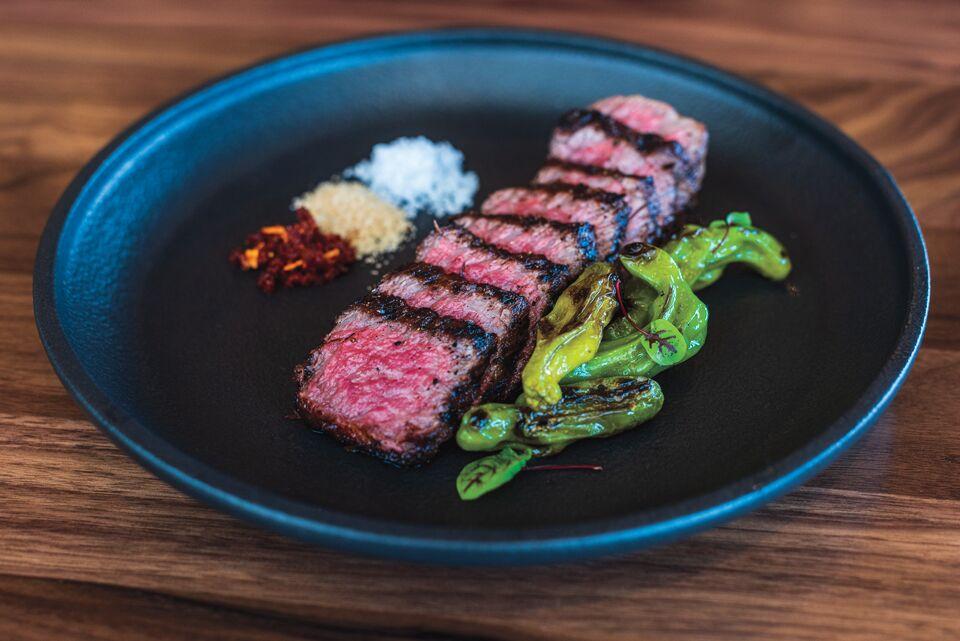 CLASSICS EXPERTISE WITH THE COMFORT OF THE STEAK HOUSE IN SAN RAMON.
Poached kelp in ají verde sauce? A vegan version of steak tartare? Not at LB Steak in San Ramon. With restaurants everywhere pushing culinary boundaries, LB Steak is a welcome throwback to a simpler time and place, despite its location in the ultramodern downtown complex.
Cocktails are classics: Manhattans, martinis and highballs. The wine list ? Extensive. Soup? Lobster bisque. Salads? Caesar and hold. (Yes, there are other options, but the direction is clear.)
And since the name of the place is LB Steak, there will obviously be a lot to choose from in that regard as well. Wagyu steaks come from Japan (including one from Australia), are premium, and are sold by the ounce ($ 25 an ounce and above). The exceptional Wagyu Carpaccio Appetizer ($ 30), made with premium Miyazaki A5 beef, offers a more affordable way to experience this succulent, melt-in-the-mouth product. Looking for more meat? Premium hand-cut steaks don't come cheap, but if you go to LB Steak, you expect quality (which you will get), and you should expect to pay for it as well.
Of course, the baked potato (with bechamel sauce, no less) is deliciously delicious and the desserts are scrumptious, adding even more to a tried and true evening of tried and true dishes.
At LB Steak, tradition trumps trends, with fantastic results. lbsteakbishopranch.com. —Clay Kallam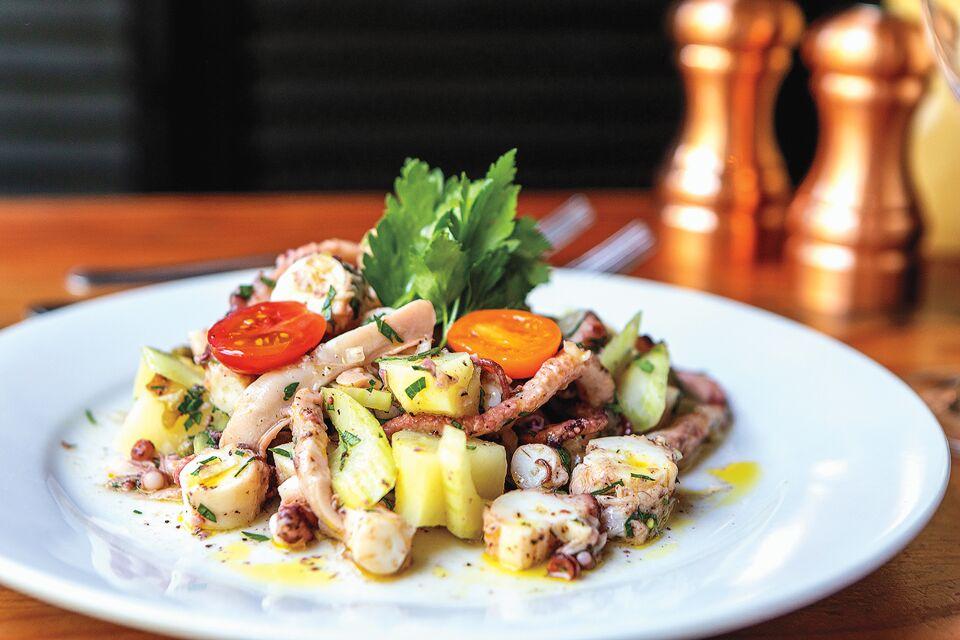 TWO ITALIAN FAVORITES FROM EAST BAY MIX WITH EXCEPTIONAL RESULTS IN BERKELEY.
It's been a brutal year (or two) for the restaurant industry, so it was especially gratifying to see Peter Chastain and his loyal Prima team return to their happy place, handing out expertly executed Italian classics to a grateful audience – with Berkeleyites versus Walnut Creekians now the beneficiaries.
After shutting down his decades-old Contra Costa destination, Chastain took over Corso, owned by his longtime high school mate Wendy Brucker. True to its name, Via del Corso has retained the Tuscan favorites, the steak alla Fiorentina and the pollo al burro, while expanding the menu with regional dishes from all over the old country.
A zesty gem salad enhanced with EVOO, Parmesan, diced anchovies and lemon whets the appetite (as does the refreshing Cicero's Choice cocktail of vodka, elderflower, lemon and grapefruit). In the appetizer section, the tender, juicy brick of a perfectly balanced pork chop, smoked char from the grill, red onions and a vibrant chimichurri-style salsa verde. As expected, you can't go wrong with the pasta: our favorite was a jet black squid ink linguine nestled in tuna, capers, whole Sicilian dried black olives in oil and tomatoes, which tasted like it had sprung straight from the Mediterranean Sea. Welcome back indeed. viadelcorso.net. – Ethan Fletcher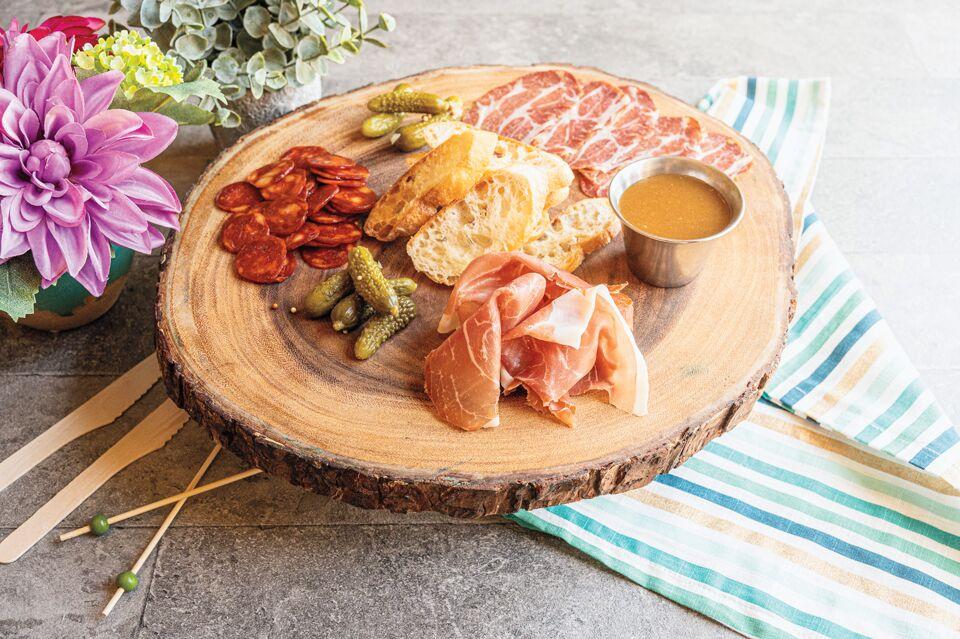 Brilliant casually
THESE FIVE NEW DESTINATIONS HAVE BEEN THE SUBJECT OF INFORMAL DINING AND DRINKS.
By Clay Kallam
When a fancy new restaurant opens, critics and writers alike always feel compelled to check it out, which sometimes means more informal places are overlooked. But as always, we're here to help, so check out these five new casual restaurants where the vibe is more relaxed, the atmosphere more drink-centric, and the food consistently great.
BIERHAUS, WALNUT CREEK
Sure, there's beer at a bierhaus, but the reopened Walnut Creek restaurant with a new executive chef now offers a farro salad with slow-cooked eggs and oven-roasted Mount Lassen trout with white butter for accompany German favorites like bratwurst and escalope. plus a large patio to enjoy it. bierha.us.
BBQ BLACK STAR PIRATE, RICHMOND
Where to start? The funky atmosphere (to say the least)? The historic lighthouse on one side and America's last whaling station on the other? Oh, and don't forget the food (brisket, ribs, pulled pork, works). Even if you're from the Bay Area, you probably didn't know this place existed, but you should. blackstarpig.com.
DA BOCCERY, LIVERMORE
Clever, clever… but really, how often does pétanque lead to debauchery? Still, fun is fun, no matter what the angle, and there is a lot to offer at the old Campo di Bocce (right on the border with Pleasanton): food, drink, ax throwing… wait, what? Maybe there is debauchery. daboccery.com.
BARBECUE BRUME, DANVILLE
The Harrigan brothers grew up in Danville and always noticed the lack of a barbecue option. So they checked this box themselves. A classic barbecue menu, live music and a full bar make for a great time in Danville's vibrant restaurant scene. hazybar barbecue.com.
HEADLANDS BREWING CO., LAFAYETTE
Look for the limited menu to expand soon, but there's still a 20-tap quality beer floating tower, a pair of outdoor patios (both dog-friendly), and a relaxing suburban vibe. And if you're craving something more substantial than a hot dog, grab some takeout from local favorites Bonehead's Texas BBQ and Locanda Positano right next door. headlandsbrewing.com.
Tagged:
bay area
high school
san francisco