Gay Gourmet's Top 22 for 2022 – San Francisco Bay Times
By David Landis–
2021 has been a zinger, especially for the restaurant community, so let's hope 2022 is better. To start the year off right, The Gay Gourmet celebrates my crush 22 of the Bay Area's Best Restaurants (many of them right in the Castro!):
Zuni Cafe: A San Francisco classic. Order the wood-fired roast chicken for two. Sitting outside, you can watch the international trams go by.
Absinthe Brewery and Bar: Like a slice of Paris, right in the Hayes Valley. Still the best French onion soup and pot of chocolate cream, with one of the most sparkling parklets.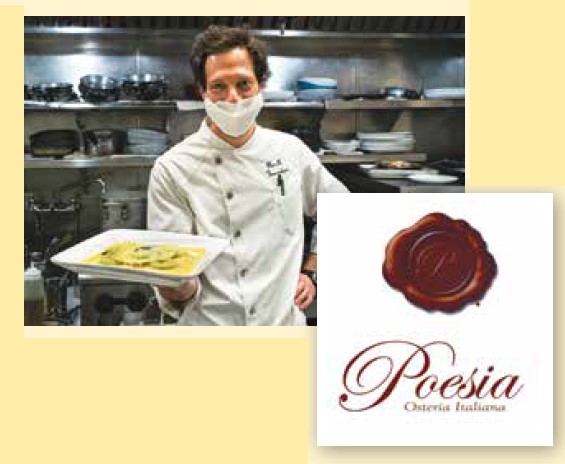 The Vaulted Garden: Sleek downtown outdoor vibe. Drag brunches are fun and don't miss the fabulous smash burger and tater tots. Craft cocktails and a cool outdoor lounge too.
Poetry: If you can't make it to Calabria, visit Poesia de Castro instead and dine al fresco on their faux Italian piazza. The best Bolognese in town.
Cinnamon : San Francisco's winning Spanish tapas, with gazpachos that change with the seasons.
The Mediterranean : A Mediterranean mainstay of the Castro for over 40 years; I love the varied Middle Eastern plate (and homemade broccoli soup) for lunch.
SPQR: An extravagant neighborhood restaurant from Chef Matthew Accarrino. Still has one of the most innovative and contemporary takes on Italian cuisine with a California twist. Well deserved of its Michelin star.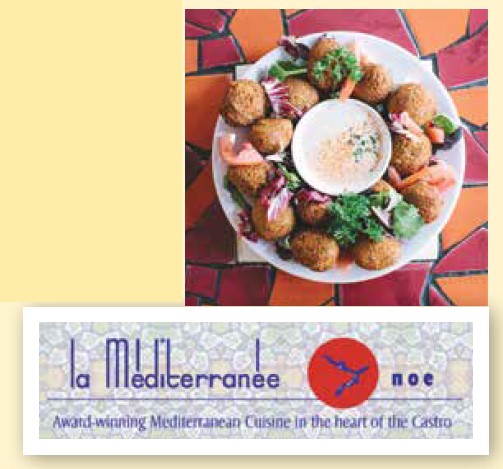 Water bar: Impeccably fresh seafood and affordable oysters with one of the best waterfront views in town; Al fresco dining at its finest.
Balboa Cafe: After more than 100 years, it remains the gathering place for connoisseurs, politicians, artists, technicians and San Francisco society. And, the best burger in town.
Palm grove: Fun, great brunches, great Mai Tais and great dog. Buzzy and trendy, with food to match.
Anchor Oyster Bar: Fresh seafood that puts the rest to shame and we're lucky it's right in the heart of the Castro. San Francisco's #1 cioppino (but the portions are huge, so bring a friend!).
Original Joe's North Beach: In the heart of San Francisco's North Beach, a traditional and tasty Italian-American restaurant that's part of San Francisco history. Lively see-and-be-seen bar where you'll meet city dwellers from all walks of life.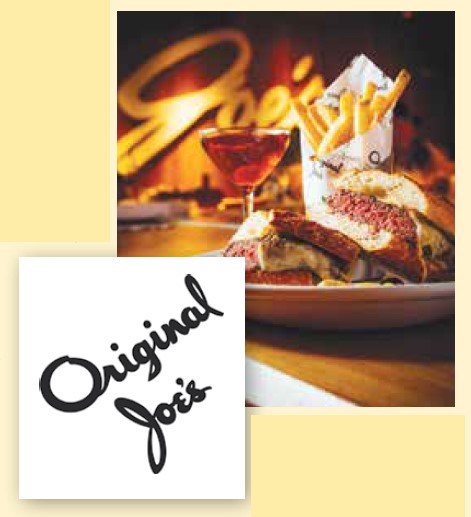 Foreign cinema: After 20 years, still cutting edge with tasty California cuisine and outdoor movies to entertain.
Bistro Don Giovanni: Yountville locals' favorite with superb and authentic Italian cuisine. The most delicious Mandilla (pasta with "silk handkerchief" pesto) and a superb Italian wine list.
HR Yountville: The most elegant restaurant in Yountville: chandeliers, centuries-old olive trees. California cuisine but you think you have lunch in Tuscany.
Scott's Chowder House, San Francisco: A welcome new addition to Union Square with some of the best crabs and chowders in the Bay Area.
Boulevard: The cal-French gem of uber chef Nancy Oakes, reborn and renewed but still with quality, elegance and class.
Anchovy bar: A newcomer to the team State Bird Provisions and Progress which was named one of America's 11 Best Restaurants by Eater.
Via Veneto: Italian neighborhood at its best on Fillmore Street. Fresh homemade pasta, varied wine list and friendly service.
Perbacco: Splashy, a downtown Italian restaurant where owner Umberto Gibin makes you feel like part of the family. I love the pappardelle with short rib stew.
Cotogna: Modern Italian special occasion in Jackson Square with one of the most beautiful parklets in town (located in the middle of an urban olive grove). I always have a weakness for the agnolotti del plin sugo arrosto.
Restaurant Marlena: A newcomer to Bernal Heights with one of the best (and most affordable) prix-fixe menus around. The menu changes seasonally but if offered I love the pan fried black cod.
Bites and bites
A fun happening in Oakland: Chef Sergio Emilio Monleón, owner of Berkeley tapas bar La Marcha, just opened a Ibexic pop-up residency at Oakland's Mad Oak Bar 'n' Yard on January 11. The culinary concept, inspired by Monleón's dual heritage, fuses traditional Spanish and Mexican-American flavors in delicious and unexpected ways. Ibéxico is Mad Oak's latest resident pop-up kitchen, its popular year-round program that hosts Bay Area restaurants and concepts.
This year the Big Sur Forage Festival is a hybrid of "Fungi Fun," which includes: a mushroom hike on January 22, post-hike brunches, and an online market. This is a benefit to Big Sur Health Center.
On my radar is Jaranita, which opened its doors at the end of January 2021 in the heart of the Marina District of San Francisco and highlights the authentic and traditional flavors of Peru. It reflects the variety of ethnic cultures that have influenced the cuisine and features free-range chickens and slow-roasted meats cooked on a custom-made charcoal grill. It's a new concept from the award-winning brand La Mar Cebicheria Peruana culinary team.
I love this idea for Valentine's Day (or any other holiday): Softer cards, the very first greeting card and gourmet chocolate bar all in one. The company offers over 40 occasion-specific candy bar cards, including: Valentine's Day, Anniversary, Sympathy, Female Empowerment, and more. Plus, it's fair trade certified, 100% female-owned, and all of their cards are designed by women, too. Plus, everything is made in the USA, and the company provides employment for adults with developmental and intellectual disabilities. Well done !
Vico Cavone, led by a former student of Poesia, just opened in the Castro in the old Firewood space on 18th Street, offering appetizer cocktails, pizza and pasta.
Heard good things about the catering company King Knish, which claims to be "the only artisan food producer in the Bay Area dedicated to making this popular Eastern European snack." Available to order online.
Zuni Cafe: https://zunicafe.com/
Absinthe Brewery and Bar: https://www.absinthe.com/
The Vaulted Garden: https://www.thevault555.com/
Poetry: https://www.poesiasf.com/
Cinnamon : https://canelasf.com/
The Mediterranean : https://lamednoe.com/
SPQR: https://www.spqrsf.com/
Water bar: https://www.waterbarsf.com/
Balboa Cafe: https://www.balboacafesf.com/
Palm grove: https://www.palmhousesf.com/
Anchor Oyster Bar: http://www.anchoroysterbar.com/
Original Joe's North Beach: https://originaljoes.com/north-beach/
Foreign cinema: http://foreigncinema.com/
Bistro Don Giovanni: http://bistrodongiovanni.com/
HR Yountville: https://rh.com/yountville/restaurant
Scott's Chowder House, SF: https://tinyurl.com/2s3zhxs2
Boulevard: https://www.boulevardrestaurant.com/
Anchovy bar: https://theanchovybar.com/
Via Veneto: https://www.yelp.com/biz/via-veneto-san-francisco
Perbacco: https://www.perbaccosf.com/
Cotogna: https://www.cotognasf.com/
Restaurant Marlena: https://www.marlenarestaurant.com/
King Knish: https://kingknishsf.wixsite.com/kingknishsf
Jaranita: https://www.jaranitasf.com/
Softer cards: https://www.sweetercards.com/
Vico Cavone: http://vicocacone.com/
Ibexico at Mad Oak Bar 'n' Yard: www.ibexico.com
Big Sur Forager Festival: www.bigsurhealthcenteronlinestore.org/
David Landis, aka "The Gay Gourmet", is a retired foodie, freelance writer and public relations expert. Follow him on Instagram @GayGourmetSF or email him at: [email protected] Or visit it online at: www.gaygourmetsf.com
Posted on January 13, 2022
Tagged:
bay area
san francisco