University of California Multi-Unit Strike Week 1 Updates
This article was written by Isabella Trierweiler and Pratik Gandhi. The views presented here are not necessarily representative of the views of the American Astronomical Society or other institutions with which our authors are affiliated.
---
Authors' note: For more information on the strike and the events leading up to it, see our previous article covering it. here!
The UC-wide strike by university workers began with a bang on Monday, with tens of thousands of workers joining picket lines, solidifying it as the largest strike in higher education in US history! Support for the strike is also growing outside of university workers, with union members construction and delivery men withholding work and refusing to cross picket lines on campus. The wider community is also getting involved, from speeches by local elected officials at daily strike rallies to food donations from local restaurants.
The persistence and sheer magnitude of the strike seem to take UC by surprise. As negotiations were set to continue on Tuesday evening, the administration suddenly canceled the session due to a lack of meeting space. Following a strong mobilization of the picketers on Tuesday morning, the UC reversed its decision in the afternoon and began a joint negotiation session with the unions of post-docs and university researchers. Similarly, towards the end of the week, the UC planned to cancel weekend bargaining sessions and then backtrack to resume bargaining following the heavy turnout of strikers at Friday's rallies (including the UCLA's march on Wilshire Boulevard and the UC Berkeley picket in front of UC President Drake's mansion).
Negotiation Highlights for the week include discounts for e-bikes, advanced notifications for student research appointments, and paid time off. Additionally, one of the union's biggest victories was getting UC to agree to joint bargaining with the four bargaining units representing postdocs/researchers, graduate student researchers, and university students ( including teaching assistants). The teams also made progress in establishing the conditions for the new Union of Student Researchers. However, there remains an impasse around the key issue of salaries. UC's latest offer of a graduate student minimum wage of $27,880/year with 3% annual increases remains too low to ease the burden of rent and match the cost of living. As an example, the average rent for an apartment within walking distance of the UCLA campus is over $2,000 per month, with national inflation currently over 7% per year.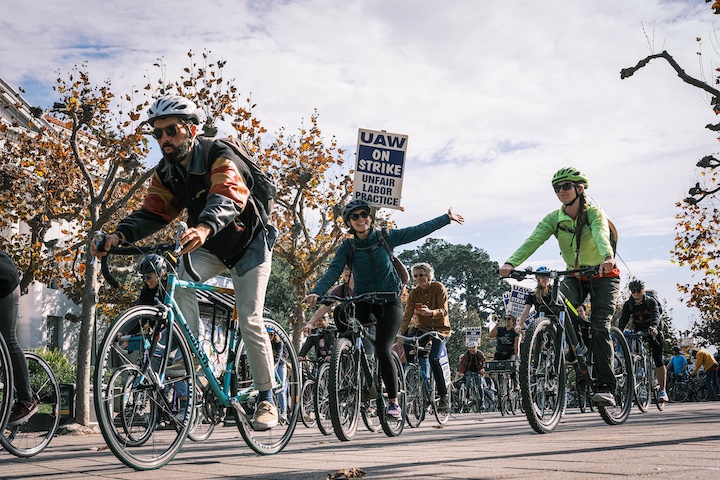 Strikers across campuses overwhelmingly agree that picket lines have been places of building immense community and solidarity, with talks, classes, drag shows and other activities on top of it. steps. UC Davis and UC Berkeley strikers even took to the streets in massive bike rallies. A number of campuses have started self-organized community kitchens to feed thousands of workers on the picket lines daily, with the one at UC Davis raising more than $7,000 in monetary donations.
Strike Kitchen at UC Davis. Video credit: Pratik Gandhi
As the strike enters its second week, scholars on all ten campuses show no signs of backing down, with massive rallies and marches planned for the coming days leading up to the Thanksgiving holiday. Workers are on the picket line for as long as it takes to secure a fair contract with positive working conditions for all, and the ball is now in UC's court.
How can I help you?
For those affiliated with the University of California, one of the best ways to support the strike is to picket! Information on locations and picket times for all campuses can be found here.
Even if you're not part of the UC community, there are still plenty of ways to show your support! One of the most effective ways to do this is to donate to the strike and hardship fund, which will serve to support workers whose wages are docked during the strike. Other ways to support are described hereincluding petitions to sign and share letters of solidarity.
Astrobites will be posting updates as the strike progresses in the coming days/weeks, and you can also follow updates on the bargaining process here.
Edited by Briley Lewis
The selected image credit: UAW 2865