Zuni Café: A San Francisco Classic – San Francisco Bay Times
By David Landis–
Sometimes when it comes to choosing a fine dining experience, only a classic will do. that of San Francisco Zuni Cafean institution founded by Billy West in 1979 in a corner previously housed by a cactus shop, fits the bill perfectly.
I've been lucky enough to be a Zuni Café regular since 1980, when I started working as a public relations manager at the San Francisco Symphony a few blocks away. At the time, the bustling "see and be seen" atmosphere, along with delicious, simply prepared food, made it a culinary destination. This quality, I am happy to report, still reigns supreme today.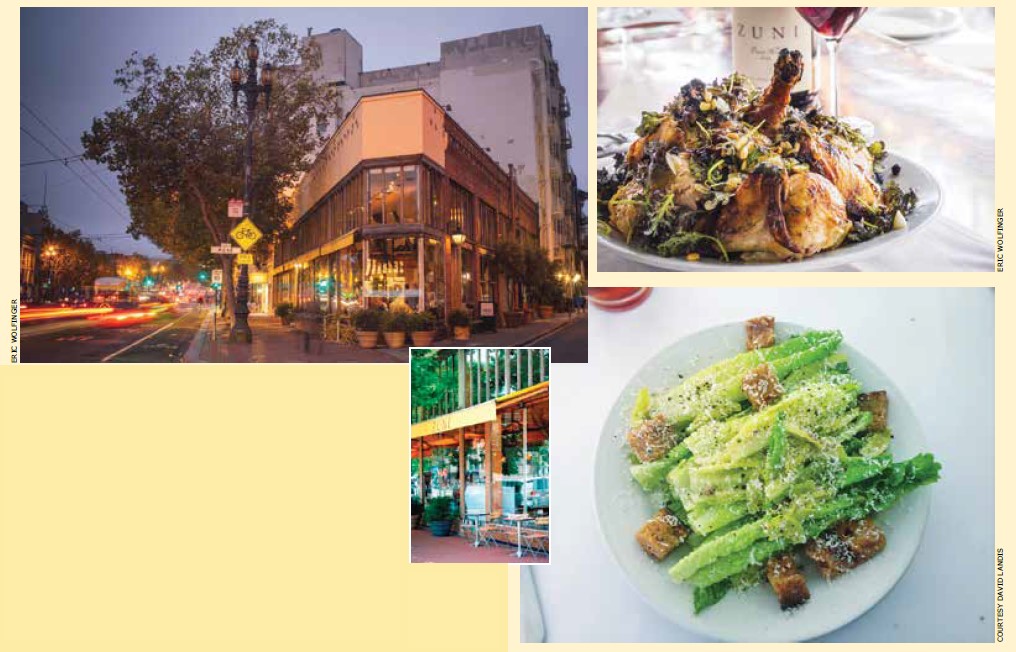 A bit of Zuni Café history: In 1987, Billy had the foresight to hire chef Judy Rodgers, a former student of Chez Panisse in Berkeley, to take over the kitchen. She insisted that a wood-fired brick oven be installed (unheard of at the time) to roast chickens, fish, etc. in the spirit of French cuisine, with a delicate scent of smoke. Numerous awards followed, including the James Beard Awards for Outstanding Restaurant and Chef. Gilbert Pilgrim (who also cooked at Chez Panisse) joined Judy as co-chef in 2006 until his untimely death from cancer in 2013. Luckily he has kept the flame burning at Zuni Café to this day. .
When dining at Zuni, in true classic style, I like to focus on the "tried and true". We last ate there for a late lunch with our friends Mariusz and Barbara from Warsaw. We chose the lovely patio (yes, it's clean and safe) because an added bonus is that you can watch the international trams go by.
Cosmopolitan cocktails like La Vie en Rose (Bonal with grenadine, lime and prosecco) offer a tempting start to a meal, but instead we started with a fresh and dry, mineral Tiefenbrunner Pinot Grigio blanc from the Alto Adige region. in Italy. Acme Crispy Bread comes to the table with a perfectly nuanced pat of butter that's always fresh. I like ordering the oysters from Zuni because they are some of the best in town. During this meal, we shared a dozen Beausoleil (East Coast) and local Kumamoto oysters with a tangy reseda and lemon; the Pinot Grigio served as the perfect complement. While we were enjoying the oysters, we thought of the famous and tasty burger, but instead ordered the café's famous roast chicken, which takes an hour. More on that later.
Next, we split an order of signature potatoes, which we ordered "extra crispy". An overflowing pile arrived piping hot and whetted our appetites for the meal to come. Then we shared the café's famous Caesar salad, probably the best in town. The long romaine leaves are perfectly dressed, with just the right amount of anchovies and crispy homemade croutons to die for. We just had to lick the plate.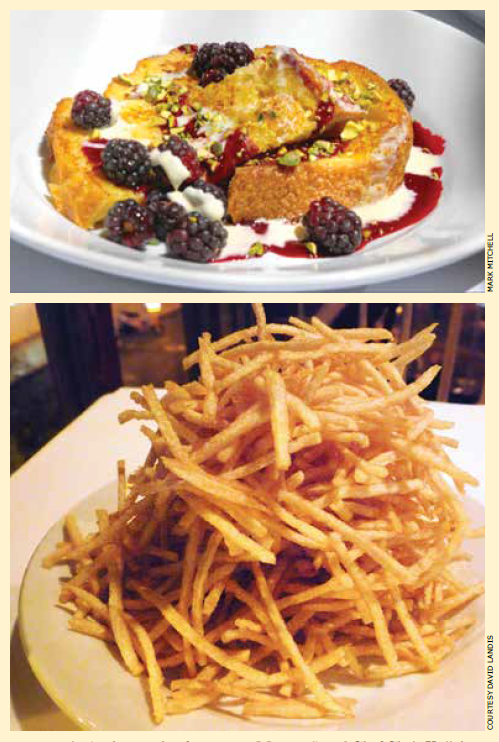 Our conversation with our Polish friends of course focused on the situation in Ukraine and how neighboring Poland is coping. It was an informative chat, so before we knew it, our chicken arrived. Well, first I have to mention that the famous San Francisco fog happened for the first time, so the host kindly moved us inside (be sure to bring your vaccination cards, they always check ), where we always had an angle view of the bustling action on Market Street.
By the way, the service was impeccable. Our server was always on point, but never hovering – there when we needed him, but never intrusive. Just how we like them.
Let's move on to the famous roast chicken. This dish might be what brings so many accolades – and loyal customers – to Zuni. The reason it takes time is because it's roasted over an open fire under a brick on a bed of delicious Acme bread, which soaks up the juices from the bird. There is no other dish like this anywhere in the world. It's juicy, tender, flavorful – and four of us easily split the dish and still had more than enough to eat. As we were literally packed, we opted for a simple Parmesan and date final course, plus a smooth but creamy Amaro on ice with a splash of orange (and a few espressos to boot).
By the way, you can always take the Zuni Café home with you: the Zuni Café Cookbook is available at the restaurant or online. A great gift idea for the foodie in your life.
As we finished our 3 hour lunch, I was reminded: there's a reason for the classics. And we are lucky that the Zuni Café is still one of the best.
Bites and bites
Waicoco at the Westin Maui: The Gay Gourmet had the pleasure of attending a preview dinner for Waicoco, the new culinary adventure of chef Mourad Lahlou (of the famous San Francisco restaurant Mourad) and chef Chris Kajioka. In two words, the food is absolutely stunning. Readers of this column know that I am a regular traveler to Hawaii, and this restaurant is a welcome and inventive addition to the culinary scene there. Our tasting included one of the best mai tais ever (not too sweet but full of punch), spiced nuts with harissa, three delicious spreads (including piquillo-almond, charred eggplant (I skipped, because I'm allergic) and dill -lebni – all tasty and unique. Plus, a blood orange Hamachi (light and fresh), some of the best freshest salmon ever (with fennel and apple emulsion and oyster) and a duck basteeya (with apricot and rhubarb) that was even better than the Morocco. For anyone traveling to the Hawaiian Islands, don't miss Maui. culinary praise.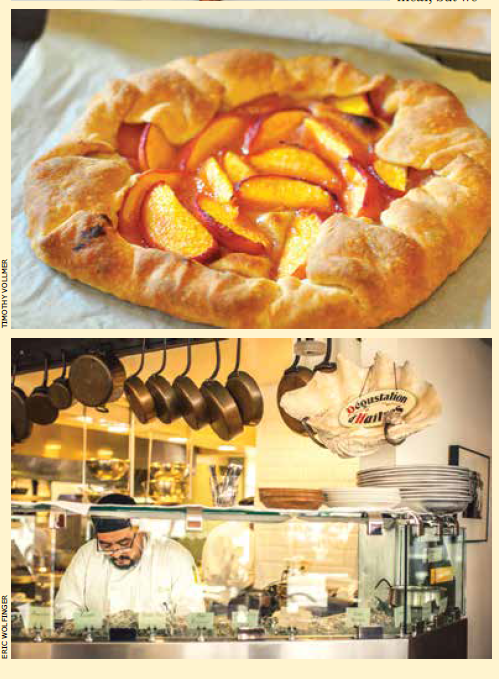 Bernal cutlery: I've heard good things about this cookware and knife shop on the south side of town. It's run by the husband-and-wife team of Josh Donald and Kelly Kozak, and for those in the know, they just got a shipment of Japanese cooking utensils called donabe that can go straight from the fridge to a direct flame. The store also offers a full line of knives, kitchen shears, mortars and pestles, peelers, and more.
Colibri Mexican Bistro at the Presidio: One of my favorite Mexican restaurants, Colibri Mexican Bistro, closed during the pandemic in Union Square and thankfully reopened in the Presidio of the Presidio Officer's Club. Look for excellent signature guacamole and margaritas, as well as mole poblano, chilaquiles, and pozole verde, among other tasty treats.
The Academy in the Castro recently relaunched its new gastronomic menu, featuring bites as tasty as: a bacon mousse pâté, a Sicilian caponata and a board of summer sausages. Food products are available all day and throughout the evening.
Zuni Cafe: http://zunicafe.com/
Waicoco at the Westin Maui: https://www.waicocomaui.com/
Bernal Cutlery: https://bernalcutlery.com/
Colibri Mexican Bistro: http://www.colibrimexicanbistro.com/
The Academy: https://www.academy-sf.com/
David Landis, aka "The Gay Gourmet", is a retired foodie, freelance writer and public relations expert. Follow him on Instagram @GayGourmetSF or email him at: [email protected] Or visit it online at: www.gaygourmetsf.com.
Posted on June 9, 2022